2020 in review – a steady nerve pays off in the long-term
December 11, 2020 - 1 minute read
Posted by Claire Parker
2020 has certainly been a year like no other. With the global Coronavirus pandemic and the ensuing economic downturn affecting all our lives, it is perhaps surprising that the year looks likely to end with at least a little good news on the global equities front.
In recent months, we've seen severe daily and weekly market falls and rises. Instability is always difficult to navigate effectively. Emotions and fears can lead to poor decision-making. It's always tempting to act on market falls – or the possibility of such events – but, as this year has shown, doing so is extremely risky and likely to harm your portfolio over the long-run.
The chart below shows the annual return of developed and emerging markets in aggregate (column) and the intra-year fall from that year's market high (dot). 2020 is a good example: the market fell around 25% but is now above its starting point. This mirrors what happened in 2016 when the start of the year was adversely affected by the the Brexit vote, yet the markets ended almost 30% up. Simply by standing firm, the result has been an annualised return of over 11%.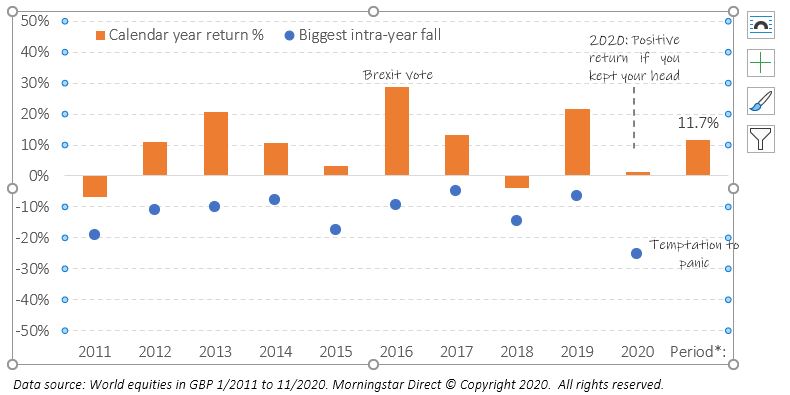 Actively managed 'absolute return' funds, which promise positive returns above cash over two to three-year horizons demonstrate how difficult it is to predict the markets, with some funds losing more than 10% this year.
Looking back on 2020, we can rightly say 'what a year'. The past few months have taught us many lessons about what's important, and solidified what we know to be true, investing requires a steady nerve and a long-term view.
With every good wish for the New Year.
Risk warnings
This article is distributed for educational purposes and should not be considered investment advice or an offer of any security for sale. This article contains the opinions of the author but not necessarily the Firm and does not represent a recommendation of any particular security, strategy, or investment product. Information contained herein has been obtained from sources believed to be reliable but is not guaranteed.  Past performance is not indicative of future results and no representation is made that the stated results will be replicated.