Our flat fee approach is fairer and more transparent
We charge a flat fee of £2,495 for your WealthPlan™ strategy. There is no obligation to come to us for ongoing financial support but if you would like to (and we hope you do) then ongoing fees are also charged at a flat rate based on the complexity of your investment portfolio.
No charge
There is no charge for our initial exploratory discussion.  This takes around 1 hour.
£2,495
We charge a flat fee of £2,495 for your WealthPlan™ strategy which will set out your vision, goals and the underpinning financial plan.
WealthPlan™
Implementation fees
Fixed cost
If you would like us to deliver your WealthPlan™ Strategy financial planning recommendations, we charge a fixed fee to do this. This will ensure the we put your goals and objectives into action.
Fixed cost
We charge a fixed cost for ongoing support based on the complexity of your financial affairs.
Our tiers are for illustrative purposes only.  Whilst they will give you a good idea of what work we expect will be required to manage your portfolio, the actual cost will be confirmed once we have completed your WealthPlan™  strategy.
If you have a Tier 3 investment value of £3m+ but your arrangements are relatively straight-forward, you would be charged Tier 2 fees.  Once we understand you and your finances, we will be able to give you a clear breakdown of our charges, and what we will do to manage your affairs effectively.
1

Tier 01

Portfolio up to £1.5m
Our fee: £6,000 per year

2

Tier 02

Portfolio up to £3m
Our fee: £9,900 per year

3

Tier 03

Portfolio of £3m+
Our fee: from £15,000 per year, based on complexity.
The chart below shows you how much better off you will be with our fee structure compared to a traditional structure based on a percentage of your investment value.
In this respect, we are the antithesis of the norm in the financial services industry and it's important to us that you know the difference.  The choice to be different – a values-led, people-first business – comes from personal experience of CEO Dominic Baldwin. "As a child I remember various advisors coming to see my father in their fancy cars and well-cut suits.  But when I look back at the paperwork, it's clear they weren't acting in his best interests.  The companies they were working for were set up to serve themselves, taking hefty fees and percentage commissions for investments which really were not appropriate to my father's circumstances."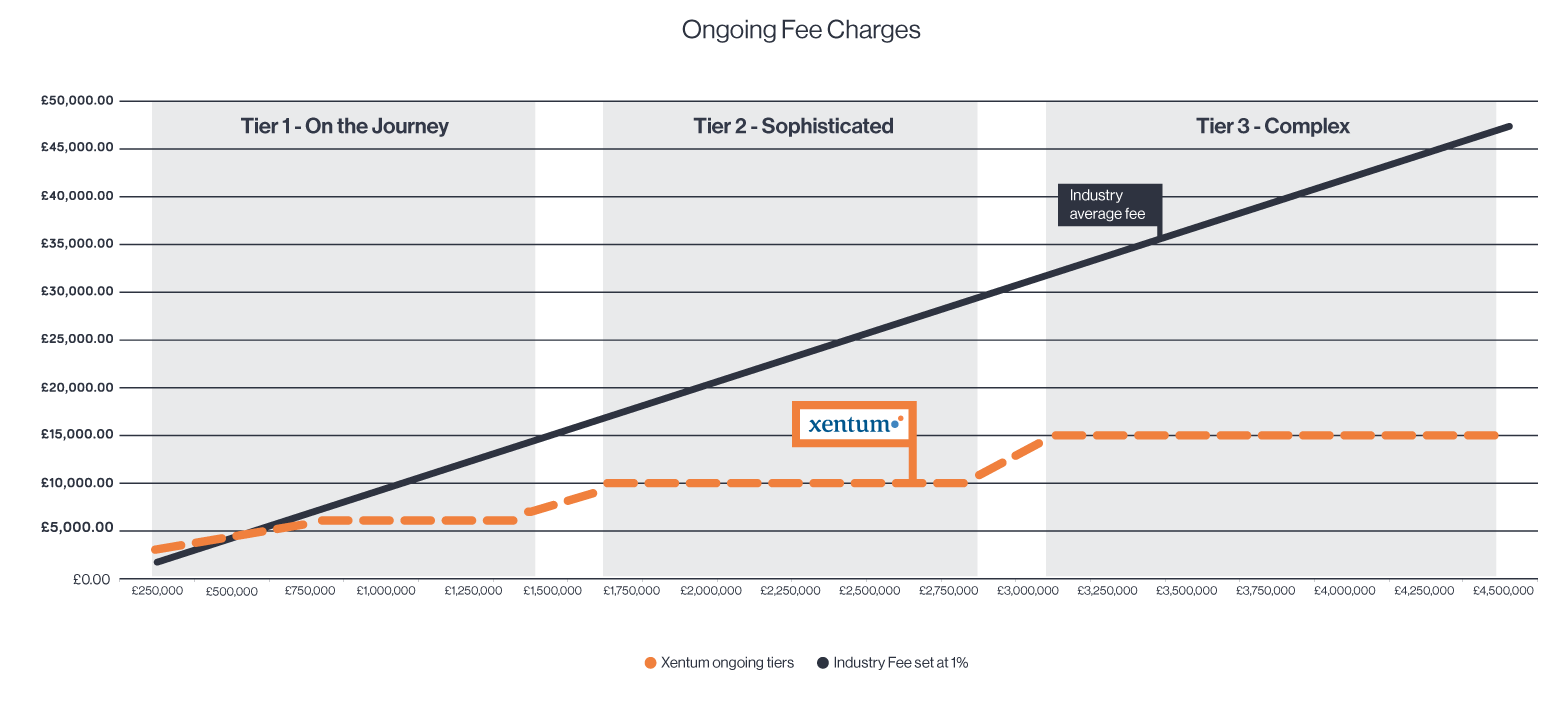 When you work with Xentum, you work with people who truly care about improving the quality of your life and that of your family.
Complete WealthPlan™ implementation

Regular meetings with your financial planner

Secure access to our financial modelling tools

Annual fixed fee based on the time and complexity of your arrangements

No hidden charges or changes
Xentum takes the risk and mystery out of financial planning. They've made me realise what I was working for and how close I am to achieving not only my business goals, but my personal aspirations too.

David Wood

Founder, Jam Pan

Xentum gave us confidence in our financial position, freedom to take amazing family holidays, and amazing support in exiting the corporate world.

Rob Mukherjee

Director of Transformation, EveryCloud UK

It is nearly two years since my solicitor introduced me to Dominic. In hindsight, I wish the introduction had been made sooner.

Pat Dawson

Alderley Edge, Cheshire

We've worked together for a very long time now, I absolutely trust the team implicitly. Dominic is a very values-led person and that permeates the entire company.

Ian & Pam Mahoney

Kingston upon Thames

Xentum have been financial advisers to our family for over ten years. The team are friendly, committed, expert and trustworthy - we feel very well looked after. It makes such a difference to work with people who take the time to understand our needs, and who always have our best interests at heart.


Val Fitton

Lancashire

It is rare to work with a company over so many years. We have done so because the team is driven by sound values and continually demonstrates their genuine care for the wellbeing of their clients. We couldn't recommend them highly enough.

Colin & Ineke McCulloch

Marlow

We have been with Xentum for many years now and have always been extremely happy with the service we receive generally and the care, quality, and professionalism of all the team. Their genuine friendliness and warmth is ever present.

David & Joan Clapperton