CLIENT STORY: How Ian Davenport Found Financial Freedom to Go From Manager to Artist
January 18, 2022 - 3 minutes read
Posted by Lisa Senior
When the pandemic hit in 2020, Ian Davenport found himself as a General Manager of a food manufacturing site with the additional responsibility of ensuring his employees remained safe.  Unlike other businesses which took a temporary pause or whose employees were able to work from home, this was not an option for Ian and his workforce.
Living in that very busy and stressful environment forced Ian to truly re-think his life priorities. Prior to the pandemic, he had begun meeting with Xentum:  "I met with Xentum nearly three years ago and thought their approach was refreshing as they were asking questions about my lifestyle and things such as 'what does it mean to have money?'"
What do you want out of life?
The questions didn't stop at his initial meeting with his financial planner, Ed Stubbs.  For nearly two years, Ed carried on the same line of questioning which made Ian re-evaluate his priorities.
Ian had always had a passion for art after he inherited an old set of oils from a great uncle in his early teens. However, his love of painting had to take a backseat when he was pushed into a 'proper career' and started a family. After 35 years in the food industry, Ian decided to make a life-changing decision and pursue the life of an artist.
"Based on the financial forecast model that Ed had developed, he encouraged me to do what I truly wanted. It took Xentum to give me that final push!"
Ian has built up pension assets and had a guaranteed pension income and therefore didn't need to rely on a regular income. However, for Ian, he could not completely cut himself off immediately from his working life. He hesitated fully leaving his company and took a 6-month stint as a consultant to ease himself out.
From Manager to Art Student
Based in South Yorkshire, he is now living the life of a university student hoping to obtain a BA in Fine Arts and Crafts student at the University Centre Doncaster by 2023. The area has always been an inspiration for him thanks to the big skies of the coastal flatlands to the East and the drama of the Pennine Hills to the west. It is also now home to a growing, vibrant community of fellow artists.
Now, when asked, Ian knows he made the right move:
"A year on, I know I have done the right thing as I am enjoying what I've always wanted to do. I feel very relaxed about the future. Initially, I felt some anxiety about not having a monthly income but as I have started to exhibit my work, I am getting good feedback. I can see doors opening and making a career out of it."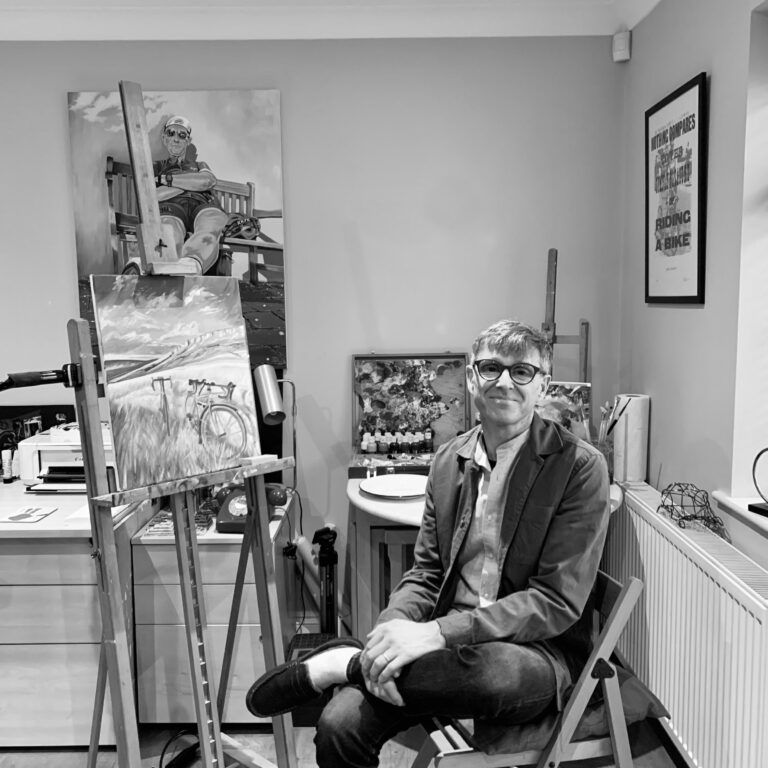 His work has been exhibited locally through gallery open calls at D31 and The Gallery Gate in Doncaster. In early 2022, he has a solo show as part of "Art at the Deli" – a changing exhibition of artwork in regional delis and cafes in the area. Ian explains how the Xentum approach helped him:
"The Xentum team helped me to explore what financial freedom looks like, that it can buy 'time' rather than 'things' and open up an opportunity to do what I have always wanted to do. With the reassurance of Xentum, I am 18 months into an arts degree and making steps towards a second career as a professional artist, literally living my dream."
Get clear on your goals
Like Ian, most people spend their lives building their wealth without stopping to consider how it can be put to work to create the lifestyle they want now. The Xentum team can change that. We are here to help you focus and create a clear picture of your financial future in line with your goals.
Ready to live life to the full? You can arrange an initial discussion with a member of our friendly financial planning team. We would be happy to discuss how we can help you via telephone or Zoom. Please phone us on 0161 5467452 or email theteam@xentum.co.uk
To view Ian's art, visit www.iandavenportart.com