CLIENT STORY: The value of working with a trusted advisor
June 10, 2021 - 5 minutes read
Posted by Claire Parker
There's immense satisfaction in working alongside our clients for the long-term, through the many inevitable ups and downs of life. Frequently, we work with more than one generation of the same family, and over time the lines between trusted advisor and friendship begin to blur.
This has certainly been the case with the Yelland family. We first began advising Michael and Patricia Yelland over 20 years ago, going on to support their sons, Paul and David. In David's words: "I didn't think I needed a financial advisor but as soon as I started working with Xentum they made me see things differently; they've had a huge impact on my life. Dominic has a way of getting to the heart of a matter, helping you get really clear about what's important and what's not and this makes it so much easier to make good financial decisions. These days, I don't make a major decision without consulting Dominic."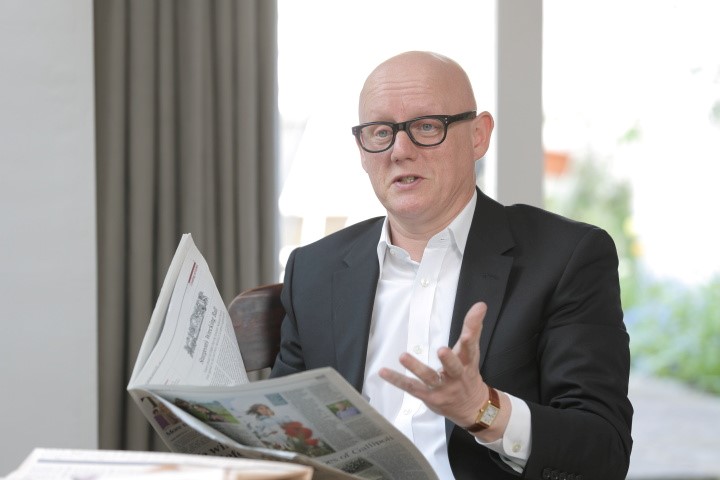 About David
David was editor of The Sun between 1998 and 2003 when circulation tipped 3.8 million. He later went on to hold senior positions at global PR firms, Weber Shandwick and Brunswick, before forming his own communications company, Kitchen Table Partners.
David has written a children's novel The Truth about Leo, is a Fellow of the Royal Society of Arts and a Life Patron of the NSPCC.
Despite his career success, David has experienced his fair share of turmoil. His first wife died of breast cancer a number of years after their divorce. He has since remarried, raising a son and daughter. A long-lasting partnership with Dominic and the Xentum team has given certainty and stability to David and his family through thick and thin, as he explains here.
The value of a trusted advisor…
I always thought I made relatively good decisions about money but my parents suggested I speak to Dominic. At that time, I was at a challenging point in my life where I needed specific, tailored advice from someone I could trust. It quickly became apparent that Dominic could help me see things so much more clearly – we unravelled a few poor decisions and went on to logically tackle the issues I needed to address one by one. At the very beginning, it was Dominic who gave me the assurance I needed not to sell our home after my first wife died, this made a huge difference at the time as I needed a stable base for my son. Since then, any big decisions have been run by Xentum first.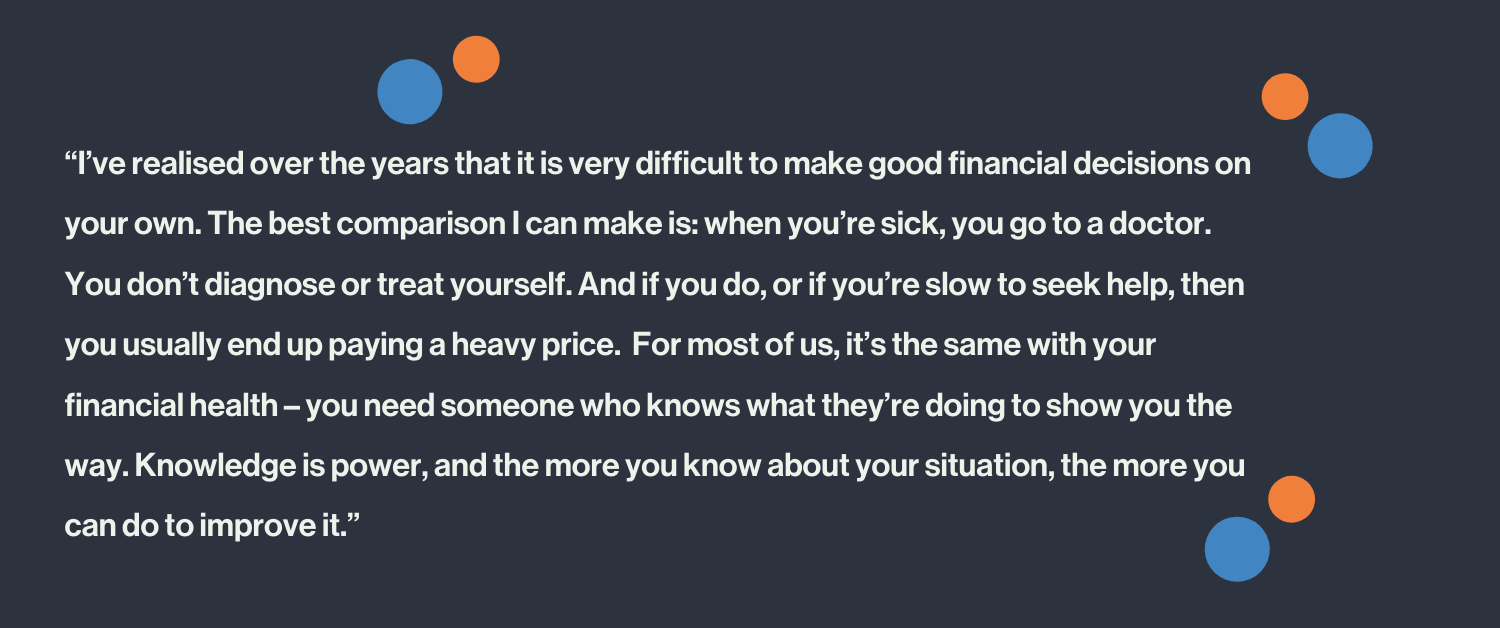 Putting life first, not money
It was immediately apparent that Xentum's approach was different to anything I'd experienced before. At our first meeting, Dominic spent lots of time asking me questions about my life so far and what I wanted for the future. It wasn't what I expected – I expected him to ask me all about the details of my finances. Speaking through my circumstances was awkward at first, but I also found it very therapeutic and it forced me to face a lot of difficult questions that I'd been avoiding confronting.
Dominic showed me that there was a life for me outside the newspaper world. It may sound a little strange but he reminded me of my own self-worth and this was pivotal to the decision to set up my own business. Because of his experience with Xentum, he helped me see that I could work independently and have more freedom over how I used my time.
Making confident financial decisions…
With Xentum's support, I have been able to make more confident decisions with my finances, like starting my own business and buying property. Although I would have done these things, I'm certain the decisions themselves would have kept me awake at night.
I describe it as being simultaneously conservative and bold; I will only do something when I know I am financially secure enough to do it but once I've decided to do it I can be confident it was the right decision. This is great because it means you can let go of a lot of your thinking and just go ahead and do what you want to do.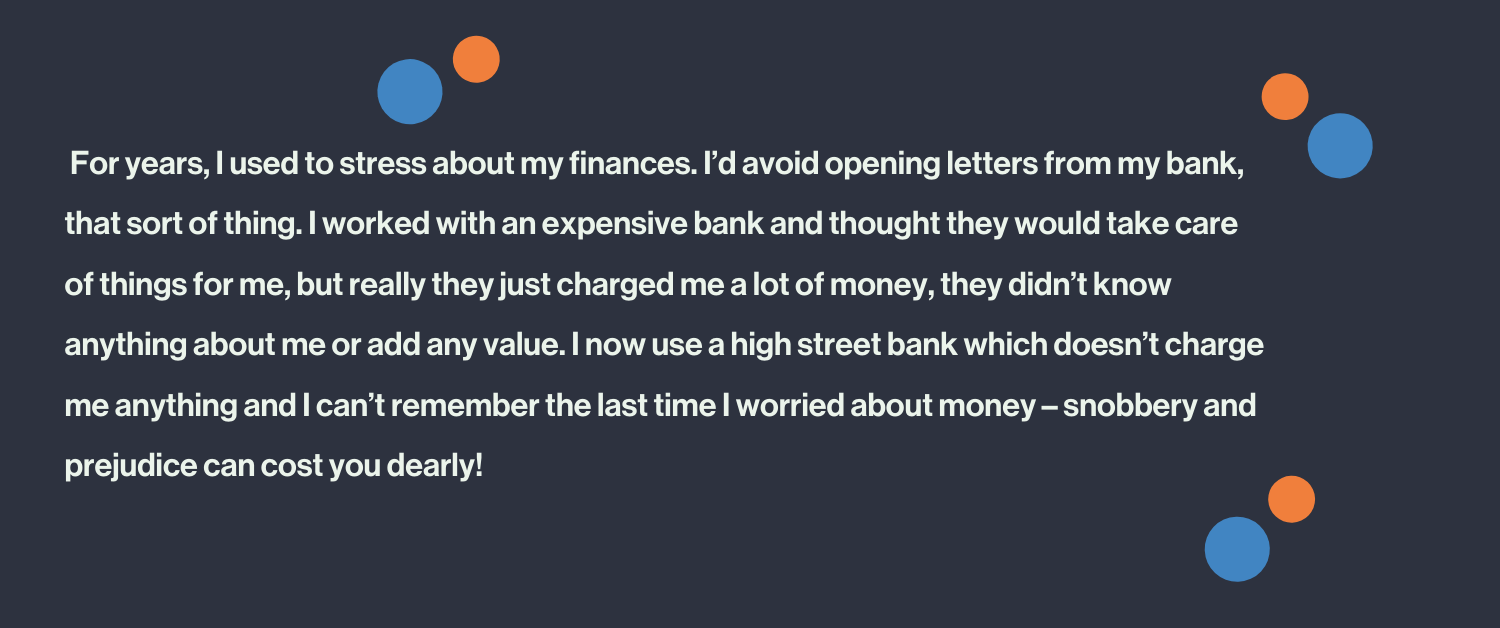 The true measure of wealth…
It's so easy to get caught up in the cycle of thinking you need more and more money. Time is finite; if you spend all your time looking at your bank balance but never doing anything with it then what's the point? Xentum gives you the sort of reassurance the very wealthy have, which is not about how much money you have but about managing it well so you don't need to worry.
Managing the ups and downs…
I've worked with Dominic through all stages of my life: both in periods of great success in my career and in more difficult times. There are times in life when something happens and you feel like you need to make a rapid decision. But I've learned that when you make emotional decisions, they aren't always logical. It's good to work with someone who can help you slow down and think things through properly before you actually do anything.
Planning for the future…
I definitely won't retire for a while and, honestly, I may never stop working because I enjoy it so much and besides, I have a family to support with my wife. But that's not an issue that concerns me because, having worked with Dominic for so long, I've got such a clear view of my finances and priorities so know I've got options and choices for whatever I want to do in the future. That makes such an incredible difference – to be honest, I would describe that as true financial freedom.
We would like to thank David  most sincerelyfor allowing us to share his story.
If you would like to discuss how Xentum may be able to help you, please get in touch to arrange an exploratory discussion.