Do you really know how much you're paying for financial advice?
June 29, 2021 - 3 minutes read
Posted by Claire Parker
One of our biggest bugbears is the lack of fee transparency which is rife across the financial services industry. It's a regulated field, but when advisors have a vested interest in which financial products you buy, can they really act altruistically?
And is it really right to charge annual fees based on a percentage of your investment portfolio, regardless of the amount of effort involved in managing that portfolio? We think not. In this article, MD James Spencer explains why we take a very different approach.
In the financial services industry, our flat-fee structure is an anomaly.
If you're not careful, you can find yourself caught up in a web of annual fees for advisors, investment platforms and financial products along with hefty fees for early redemption and other hidden charges. Not surprisingly, many people have no clear idea of what they're paying year-to-year and whether this represents value for money.
We have a long-term client who came to us after several years of spending £70kpa on her financial advisor. Whilst this client is a wealthy individual with a significant sum invested, her needs are not complex to manage. In response, her fees with Xentum are now rarely above £20k pa and her investments are performing as expected.
When you pause to examine the traditional fee structure in more detail, it's clear that percentage rates is a very expensive way to pay for financial services – especially if you calculate the long-term implications, as the table below shows.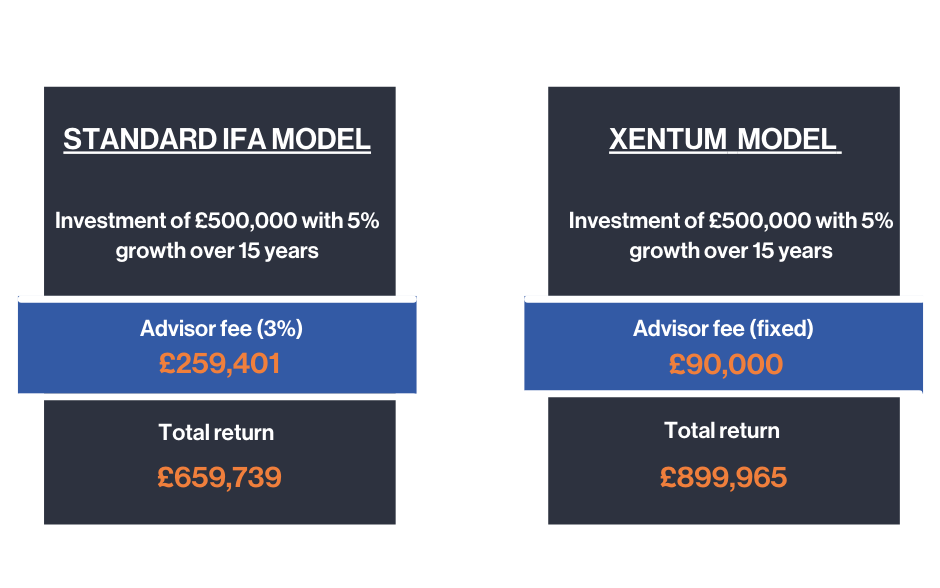 Although regulated by the FCA which has itself tried to tackle the issue of fee transparency, there is still much work to be done to enable unsuspecting consumers the ability to understand and compare service providers. That's why we take so much care and attention to explain our fee structure and to emphasise that we have no vested interest in what financial products you use – or, indeed, whether you use any at all!
A fairer way
We decided to settle on a fairer way, driven by the experience of our CEO, Dominic Baldwin.
As a values-led, people-first business, our goal is to help you enjoy life, safe in the knowledge that your wealth and finances are properly arranged. We will take the time to get to know you so we can help you get clear on your values and goals – this is, after all, what drives a successful financial plan. For a few clients, this is enough. We simply work together on an ongoing basis to ensure everything stays on track.
For the majority of clients who do need financial advice and services, we put in place the right arrangements to meet your specific goals. Because we charge a flat fee for supporting you, we have no vested interest in anything other than ensuring your wealth underpins the lifestyle you wish to enjoy.  Plus, because we are 100% independent, we are able to look at the whole of the market when advising on investments. This means we are not tied to particular funds or service providers and can genuinely look at the whole of the market to find the best products and services to suit your specific needs.
How much do we charge?
We have 3 fixed fee tiers. The complexity of your arrangements will determine which tier is appropriate for you.
Tier 1: Portfolio of up to £1.5m = £6,000pa
Tier 2: Portfolio of up to £3m = £9,900 per year
Tier 3: Portfolio of £3m+ = from £15,000 per year (based on complexity)
Our tiers are for illustrative purposes only. While they give a good indication of our fixed-fee structure, the tier your fall into will be confirmed once we know you better. For example, if you have a portfolio valued at £3m+ but your arrangements are straightforward, we'll only charge you Tier 2 fees because we're dedicated to a fairer approach that doesn't take advantage of your hard work.
While some investments have fees that are out of our control (like platform management fees), these will always be clearly explained to you before you invest. We'll provide you with a comprehensive breakdown of any costs associated with your financial plan so you can see exactly where your money is going and how it's bringing you closer to your financial and personal goals.
Start seeing clearly
If you would like to know more about our services and transparent charges, please don't hesitate to get in touch or book an exploratory call with a member of our financial planning team.