March 21, 2022 - 2 minutes read
Posted by Claire Parker
CEO Dominic Baldwin was recently invited to speak at an event in Birmingham attended by more than 200 members of the financial planning profession.
Organised by Paul Armson, a leading light in our profession and author of Enough? (download your free copy here), the Back2You event aimed to share insight and best practice for ensuring a client-centred approach to financial planning.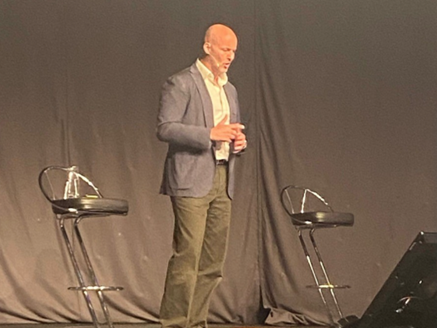 For Dominic, this was the perfect platform to talk on a subject he is immensely passionate about: the need for financial planners to illuminate their clients' most important values and their ideal lifestyle vision BEFORE making important financial decisions.
In a speech entitled 'It's Not About The Money', Dominic explained: "It's all too easy for financial planners to focus on the amount of wealth a client has, wants to have or thinks they need. Yes, this is important, but it's certainly not the first thing to focus on.
"At Xentum, first and foremost, we need to understand our client's values. Clarity on values is important because this helps us to understand our clients' priorities. It allows us to guide clients towards financial decisions which are aligned to what's most important to them in their lives.
"This is a very different – and more life-enhancing – approach than if we focus on the growth of investments or how to save money on tax. Certainly, these are important aspects of the process, but they come into play at a much later stage."
It was delightful to receive warm feedback from a number of delegates…

"Many thanks once again for your inspirational presentation! It affected me emotionally and spiritually and the table of great people I was sat with all echoed my feelings and aspire to be an exceptional guide to all those that we take under our wings."

"I saw your presentation and your demeanour and business approach resonated with me powerfully."
Dominic concluded: "Presenting at Back2You was a brilliant experience and my wholehearted thanks go to Paul and his team for bringing together members of the financial planning community in this way.
"I think there was common agreement, money should be used as a tool for life, and a financial planner can guide a client to make good decisions about their wealth, only when they know what the money is for. It's a more difficult way of approaching financial planning, but it is the only way to truly help clients obtain true financial freedom."
To book an exploratory call with a member of our financial planning team, please get in touch.  If you wish to speak to Dominic directly, please select a slot in his diary here.